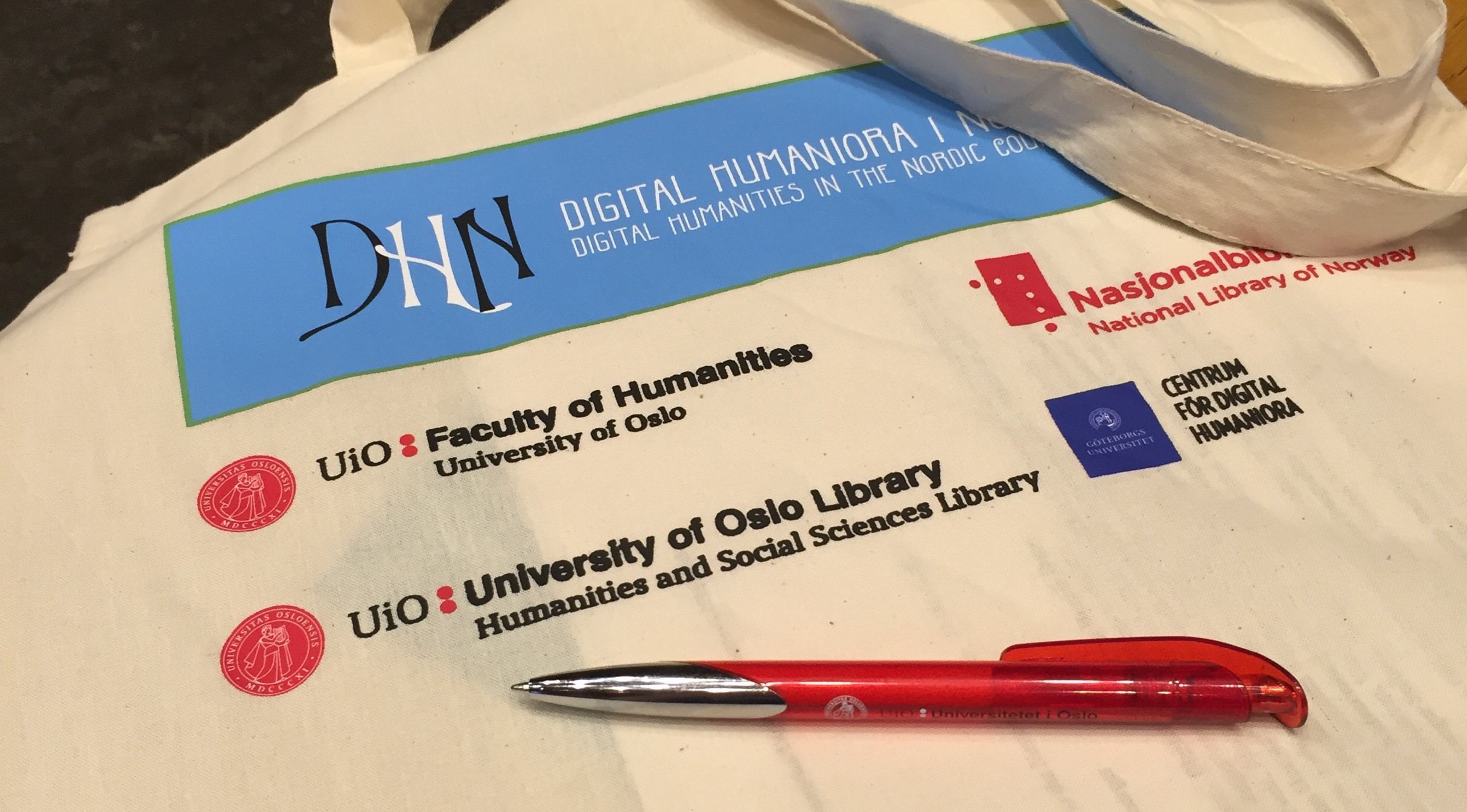 I am exhausted but ever so happy that the first conference of the Digital Humanities in the Nordic Countries Association (DHN), held at the University of Oslo and the Norwegian National Library from March 15 to 17, 2016, was such a great experience and success at various levels! Let me say – again – a big THANK YOU to all the busy organisers and assistants, to my colleagues in the program committee and fellow board members of the DHN, to the keynote speakers and panelists, and not least to all of the 232 (!!!) participants that made this event into a truly memorable 'kick-off' of our Nordic collaboration and cooperation in the "meeting place" that Digital Humanities can and shall be.
I will not give a full report of #DHN2016 – others (Kenneth Nyberg Day 1 | Day 2+3) have already done that or are about to sum up what they experienced, learned, and took with them to their home institutions and regional and local networks. Instead, I experimented a little and gathered the active and lively coverage of the conference and its social program in social media and created a Storify (Day 1 | Day 2 | Day 3). I will also upload all the pictures I took at the event to a public Flickr and encourage all those who captured the vibrant atmosphere with their gadgets to do the same.
The conference website will upload video files (mp4) of the three keynotes by Francesca Tomasi (website | video), Patrik Svensson (website | video), and Nicole Saylor (website | video) as well as the discussion panel (Bente Maegaard, Anne Baillot, Hege Stensrud Høsøien, Mikko Tolonen) to accompany the digital book of abstracts (edited by Espen S. Ore) and our virtual poster exhibition. This content will also be archived on the DHN website.
On March 17, after the official conference was finished, the DHN association had its first members meeting. As of now we have already more than 150 members (which is overwhelming considering that we founded DHN only on April 21, 2015). The new board of DHN has representatives from all the five Nordic countries: Iceland (Emily Lethbridge & Olga Holownia), Norway (Annika Rockenberger & Christian-Emil S. Ore), Denmark (Bente Maegaard & Ditte Laursen), Sweden (Sverker Lundin & Jenny Bergenmar) and Finland (Mikko Tolonen & Sakari Katajamäki). We continue our work on nourishing and furthering a thriving, interconnected, and strong digital humanities both in the North and in the European context (since we are an organisation under EADH).
The next conference and members meeting will take place in Gothenburg, Sweden in 2017 and will be hosted by the Centre for Digital Humanities at Gothenburg University. DHN encourages Nordic and international researchers (novice, early career as well as senior, including 'alt acs' and independent researchers, teachers, and developers) to become members and contribute to the configuration of our association and DH in a Nordic context. We are calling for proposing 'special interest groups' or thematic 'working groups', like Kristina Skåden's initiative for a 'Spacial (digital) humanities special interest group'.
I am looking forward to be part of this network – and I am grateful to be trusted with the duties of a board member of DHN in 2016.
[tweetthis]DH in Nordic Countries Conference | Thank You Note by @ARockenberger #DHN2016[/tweetthis]